Staff Working Together To Support Students
The District learning goals for the Langley school district for 2018/19 will focus upon increasing grade three reading scores and school completion rates. Currently, approximately 65% of our grade three students are reading at grade level and we are determined to see this increased to 80% by the 2020/21 school year. The District six year completion rates are approximately 87% and we are equally determined to increase this rate to 93% by the 2020/21 school year. It will take a coordinated effort by everyone in the system to accomplish these goals. Our Human, Financial, and Instructional resources will all be focused on supporting practices that will enable us to reach our targets.
The School Improvement half day on September 21st provided one opportunity for school staff to work on their Action Plans to address the school district goals with respect to literacy and school completion. Staff professional development included: balanced literacy, standards based grading, assessment, collaboration, data analysis, and self-regulation.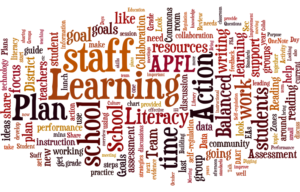 We can never forget that the aforementioned percentages indicate that there are still many students in our district that require us to differentiate our instructional practices for them to experience success. In particular some or our Aboriginal, Children in Care, and students with Diverse Abilities may require different strategies to help them meet provincial graduation requirements. There are so many stories that exist within the data. It is through a shared commitment to our District goals that we can enable all of our students to complete their K to 12 education in Langley with the skills necessary to be be successful as they transition to adulthood.
"The only measure of a great team or organization is whether it accomplishes what it sets out to accomplish"
The Advantage, Patrick Lencioni