Inspirational Moments Despite Challenges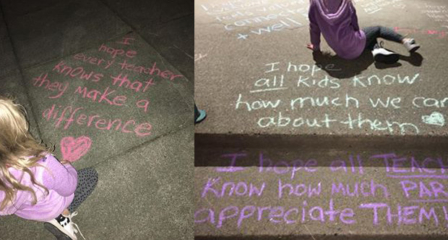 The District Support Team started the year off by asking each member what their hopes were for the 2017/18 school year. A common inclusive theme emerged that all children would feel safe, cared for, and have a positive learning experience. Staff took their messages outside the School Board Office and wrote their thoughts in chalk on the sidewalk. What we did not anticipate were children and parents also participating in the exercise. Staff were very apprciative of the sentiments shared by the community in terms of how much they value the work of all teachers to make a difference in the lives of their children – very inspirational!
Once again the Orange Shirt day on September 29th to acknowledge those in the Aboriginal community that suffered under the residential school system was met with tremendous support at our school sites. A wide array of activities were held throughout the District to provide students with opportunities to understand the devastating impact this action had on those that suffered under this program. It also served as yet another reminder on the importance of treating everyone in our community with respect – a message that aligns nicely with the District's commitment for providing an inclusive educational system for all.
I have also been very appreciative of efforts by staff to address the teacher shortages faced to start the school year. These are certainly unique times in terms of opportunities for those interested in joining the teaching profession. The changes to the teacher collective agreement have led to a dramatic increase in teaching positions throughout the province. Particularly problematic has been filling positions in Resource, French Immersion, and Tech Ed. Furthermore, most TTOC (substitute teacher) lists have been severely depleted in most districts. Our Human Resources department has been working incredibly long hours to address these shortages. In addition, District staff are providing support along with school based teaching staff to assist in places where vacancies remain. I know these circumstances have been stressful for students and parents and I am thankful for your patience. We hope to resolve the last few vacancies shortly so that we can concentrate our focus on enhancing the educational growth for all of our students.
Gord Stewart
Superintendent