Outdoor Education Program GUIDING VISION
The Langley Outdoor Education program seeks to nurture practices of learning and teaching to include a significant portion of the school year spent in meaningful, outdoor place- based settings throughout Langley.  Learning will be cultivated in local places close to the program schools and in other parts of Langley.  Experiences in natural settings will be made so that diversity, complexity, stewardship and sustainability become part of the students' understanding of their place and world.  Educators will use the current curriculum and the CARE document to organize and conceptualize environmental learning.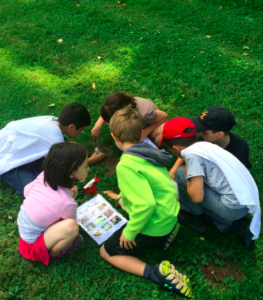 CARE includes:
COMPLEXITY:  considering the complexity and inter-relatedness of natural and human-created systems, and how humans interact with and affect those systems
AESTHETICS:  developing an aesthetic appreciation for the natural world that encourages students to learn about and protect the environment
RESPONSIBILITY:  providing opportunities for students to take responsible action and explore the environmental impact of their decisions and actions
ETHICS:  providing opportunities to practice an environmental ethic based on an examination of values that can give rise to new visions, possibilities and actions
2017-18 SCHOOL YEAR
The Outdoor Education Program opened its doors at Fort Langley Elementary in September of 2017.  Ms. Marlee St. Pierre (kindergarten) and Ms. Ashley Harder (grade 1 and 2) were hired as the teachers of the two classes, and their passion for outdoor learning is ensuring a strong start for the program.     They have engaged parents in the program and have ensured that students are working and learning outdoors as much as possible right from the beginning. The goal is to be learning outdoors 60 percent of the time. Mondays through Wednesdays are for learning outdoors. On Thursdays and Fridays, both classes are working and learning in classrooms at Fort Langley Elementary.  A Special Education Assistant is dedicated to the program, providing extra support to students with special needs and assisting in ensuring student safety in outdoor environments.

THE FUTURE:  2018/19 School Year
The plan is to expand the program for the 2018-19 school year to grade 3
The intake process for September 2018 is complete.  If you wish to be placed on a waitlist, you may email Ruth Castillo at rcastillo@sd35.bc.ca.  Information sessions were held in February with decisions regarding intake made by April 2018. Applicants had to attend an information session to be accepted into the program. A review is currently occurring where we will decide on the number of classes, grade configurations and location of these classes which will be dependent on available space in appropriate schools and proximity to applicant. Applicants will be notified whether they have been admitted into the program or they have been added to a waitlist.
TO APPLY for September 2019.
Parents of students who wish to apply to the program must attend an Information Session to receive an application form.  If you would like to receive information about the program via email in the future including dates/times for Info Sessions, please email the following information to rcastillo@sd35.bc.ca with the title Outdoor Education Program in the subject field. Parents of students wanting to register in Kindergarten for September 2019 are to follow the online process for Choice Programs which begins in October of 2018 for the 2019-20 school year.
Parent Name
Parent Email Address
Student Name
Students' grade in September 2019
Student's Current School

INFORMATION SESSIONS
Families must attend one of the two Information Sessions to be accepted into the Program.