Staff News: June 2016
June 20, 2016
District Retirement Celebration
Each year those retiring from the Langley School District are honoured and celebrated with dinner, a gift and some kind words from co-workers. Thank you for your service to the students of Langley and enjoy a long and healthy retirement!
District Staff: Trudy Arndt-Harrison
Administrators: Alfredo Amado, Glen McKinnon, Dave Peck, Mark Rempel, Tim Everson, Deb Page, Carol Perry, Al Wiebe
CUPE 1260: JoAnne Allison, Dennis Brunsch, Cindy Cockerill, Teresa Gares, Trudy Holloway, Cindy Norman, Edith Percy, Joann Sawyer, Jane Stocking, Patricia Townsend, Sharon Berg, Susan Budden, Marilyn Farquhar, Brenda Hansen, Pam Isley, Donna Pearson, Susan Perkin, Joanne Smyrski, Patti Thiessen.
CUPE 1851: Jerold Johnson, James Lambie, Dave Tebbut.
Teachers: June Amano, Esther Baxter, Terri Cartier, Elaine Coutu, Susan De Cambra, Garth Douglas, Lana Friesen, Teresa Furuya, Brenda Gough, Lenore Gray, Sharron Hansen, Allan Hicks, Karen Irvin, Joan Knox, Lela Leslie, Wanda Madokoro, Fran Mcleod, Kathy Nelson, George Omorean, Keith Punnett, Donna Walker, Nigel Wells, Brad Zembic, Ruth Bass, Glenda Bisig, George Coletsis, Bonnie Cunningham, Madeleine De Little, Tammy Farrer, Shelley Fritz, Susan Gorris, Henry Graewe, Jane Hamar, Alison Hewitt, Brian Hunter, Bruce Jackson, Jo-Anne Kobayashi, Lesley Macpherson, Angie Mallinson, Cathy Merkel, Cheryl Ohman, Kathy Pinkerton, Kathryn Shirley, Linda Watson, Kathie Wilkins.
Admin Moves: Spring & Summer
Alice Brown: Sarban Sangha will be Principal effective August 1 as Deb Paige retires.
Learning Support Services: Vice-Principal Meena Sangha will be assigned fill-time to Learning Support and will not be replaced at Alice Brown.
Coghlan Fundamental: Cathy Gracie will be Principal at Coghlan, leaving her post as VP at Parkside. Current Coghlan Principal Dave Peck is retiring.
Parkside Centennial: Tim Bonnar has been assigned to Vice-Principal at Parkside, replacing Cathy Gracie.
Alex Hope: Replacing Tim Bonnar as Alex Hope VP will be Lisa Peterson. Lisa has been a teacher in the district since 1991 and has strong background in early learning and literacy. She is also currently working with pre-service teachers at TWU.
Gordon Greenwood: Tia Henricksen will be Associate Principal at Gordon Greenwood joining Frank Roberto on the administrative team.
Douglas Park: Esther Schmit will be on leave for the 2016-2017 school year and Carmen Eberle has been appointed Principal of Douglas Park. Esther will return to an assignment upon return from her leave.
Fort Langley Elementary: Clint Jackson had been Acting Principal at Fort Langley but has been confirmed as Principal.
Dorothy Peacock: As Glen McKinnon has retired from his Vice-Principalship, Dawn Driver, formerly VP at Langley Meadows will move to Dorothy Peacock.
Langley Meadows: Kim Anderson has been assigned Vice-Principal of Langley Meadows as Dawn Driver leaves for Dorothy Peacock.
LFMSS: Sean Wicker has been appointed Principal at LFMSS replacing Mark Rempel who is retiring.
LSS: Replacing Sean Wicker at LSS is John Hantke, formerly of REMSS.
REMSS: Brian Leonard has been appointed Vice-Principal at REMSS, replacing John Hantke.
ACSS: Jeremy Lyndon has been assigned to ACSS from BSS, replacing Mike Pue.
BSS: Mike Pue is replacing Jeremy Lyndon at BSS, moving from ACSS.
Topham: Charlene Redekop is assigned Vice-Principal of Topham as VP Hilary Devries returns to a teaching position.
Langley Fundamental Elementary: Replacing Charlene Redekop at LFES is Kendra Simonetto, a district teacher with extensive experience in fine arts and technology. Kendra has been a teacher at Alice Brown and LFES.
Willoughby & U-Connect: Adam Moore has been appointed Vice-Principal of Willoughby and U-Connect for September. Adam comes to Langley from Abbotsford Senior Secondary where he is currently Vice-Principal. He brings with him previous experience at both elementary and secondary levels in fine arts including music and theatre.
Ministry of Ed impressed with Langley data
The Ministry of Education sent a letter of congratulations and a Certificate of Excellence to the Langley School District for their exemplary work on collecting and correcting student data. Elementary Administrative Assistants and secondary Computer Operators spend a lot of time going through student data correcting entries and 'PEN differences' each year as part of the 1701 Data Collection and this year have achieved a 94% completion rate. Accurate student data helps students transition between schools to graduation and beyond – a student's PEN follows them from early learning to post-secondary education. Congratulations on a job well-done!
Langley Teacher-Librarian recognized by provincial association
Alison Hewitt has been awarded the Val Hamilton Lifetime Achievement Award! The British Columbia Teacher-Librarians' Association recognizes the commitment and achievement of teacher-librarians who have made outstanding contributions to teacher-librarianship, school libraries, and the BCTLA. This award is presented annually by the BCTLA for an outstanding, substantial and recognizable long-standing contribution to school libraries. 
All of those who have had the opportunity to work with Alison during her career in Langley will appreciate how deserving she is to receive this prestigious recognition. 
Congratulations Alison! The respect and admiration you have received from colleagues and students over the past weeks, in celebration of your retirement, underscore how truly deserving you are. This award is a testament to the dedication, caring and professionalism you have exhibited throughout your career. Please know how much you have impacted your students and colleagues with your expertise but mostly with your joyful, caring personality.

– Deb Cowland
District Athletics Evening: Building a Lasting Legacy
Friday May 7th the Langley School District celebrated and honoured the dedication of the many coaches and athletic directors who inspire and support our students through demonstration of the District's Core Values of Integrity, Excellence, Courage & Community.
The event was themed around Building a Lasting Legacy and began with a welcome and introductions from Acting Superintendent Gord Stewart. Micheal Munsie, President of the LDSSAA recognized the first-year coaches and expressed appreciation for their willingness to take on coaching roles.
The keynote address was from Former NFL football player Mitch Berger, a Delta Secondary graduate and the most successful and decorated Canadian-born NFL player in history. Berger won a Super Bowl Championship with the Pittsburg Steelers and played in two Pro Bowls over 16 years in the NFL. As a punter and kick-off specialist, his 15 accredited seasons in 16 years gives him the record for second-longest career of any Canadian-born NFL player.
The first award of the evening was the 'Difference Maker' Award that was presented posthumously to longtime LFMSS coach and teacher Jim Ehman. Members of Jim's family were on hand to accept the award that will be presented in the future as the Jim Ehman Memorial Difference Maker Award.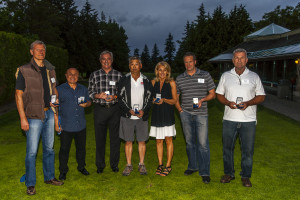 Coaching Excellence Awards were presented to coaches that have been leaders in the Langley School District for 10+ years, 20+ years and 30+ years. Thank you to all coaches that make athletics in Langley Schools so special for so many students.
Also recognized were three outstanding coaches that will be inducted into the to-be-constructed Coaches Wall of Distinction that is to be featured at the Gate 1 entrance of the Langley Events Centre. The inductees for 2016 were Greg Leino (DWP), Ivan Adrian (BSS) and Grant Inkster (WGSS).
This event was the first of its kind but going forward this will be an annual recognition event in Langley School District.
10+ Years:
Brad Hendy – HD Stafford Mid: 10 yrs – Basketball
Kristen Hind – Brookswood Sec: 10 yrs – Basketball, Soccer, Track & Field, Volleyball
John Kuehl – Langley Christian High: 10 yrs – Basketball, Track & Field
Lara Lavery – HD Stafford Mid: 10 yrs – Track & Field, Volleyball
Meagan Wood – Langley Sec: 10 yrs –  Track & Field, Volleyball
Pat Zawaduk – HD Stafford Mid: 10 yrs – Basketball, Curling, Track & Field
Michael Carlyle – Yorkson Creek Mid: 11 yrs – Basketball, Football, Hockey
Jon Fast – Yorkson Creek Mid: 11 yrs – Basketball, Rugby, Volleyball
Sandor Kardos – Langley Sec: 11 yrs – Basketball, Football, Rugby
Jesse Zuidhof – Langley Christian High: 11 yrs – Track & Field, Volleyball
David Sandquist – HD Stafford Mid: 12 yrs – Archery, Basketball, Track & Field, Volleyball
Elizabeth Yoon – Yorkson Creek Mid: 13 yrs – Badminton, Basketball, Cross Country, Volleyball
Scott Abbot – Langley Sec: 15 yrs – Basketball
Jan Ellison – Langley Fundamental Mid/Sec: 15 yrs – Volleyball
Graham Esplen – Brookswood Sec: 15 yrs – Basketball, Track & Field, Swimming
Harry Frank – Betty Gilbert Mid: 15 yrs  – Basketball, Track & Field
Jeff Koruz – RE Mountain Sec: 15 yrs – Rugby, Soccer
Wayne Loewen – DW Poppy Sec: 15 yrs – Soccer, Volleyball
Aaron Rowe – HD Stafford Mid: 15 yrs – Basketball, Cross Country, Rugby, Soccer, Volleyball
Sandra Fast – Yorkson Creek Mid: 16 yrs – Basketball, Soccer, Track & Field, Volleyball
Kim Haber – Aldergrove Sec: 16 yrs – Basketball, Soccer, Volleyball
Dale Harrison – DW Poppy Sec: 16 yrs – Cross Country, Track & Field
Vicki Nirranen – DW Poppy Sec: 16 yrs – Swimming
Dameon Lorensen – Yorkson Creek Mid: 17 yrs – Basketball, Track & Field, Volleyball
Kevan Reeve – Yorkson Creek Mid: 17 yrs – Basketball, Cross Country, Hockey, Soccer, Track & Field, Volleyball
Gura Sidhu – RE Mountain Sec: 17 yrs – Volleyball
Sandi Begin – DW Poppy Sec: 18 yrs – Basketball, Volleyball
Shawn Davids – HD Stafford Mid: 18 yrs – Basketball, Cross Country, Track & Field, Volleyball
Lisa Ellis – Langley Sec: 18 yrs – Cross Country, Soccer, Track & Field, Volleyball
Glenn Foreman – Langley Sec: 18 yrs – Basketball
Kelsey Stewart – Brookswood Sec: 18 yrs – Basketball, Rugby, Volleyball
Dino Camparmo – Brookswood Sec: 19 yrs – Basketball, Football, Rugby, Track & Field
20+ Years
Tim Everson – Yorkson Creek Mid: 20 yrs – Basketball, Cross Country, Track & Field, Volleyball
Larry Goldsack – Brookswood Sec: 20 yrs – Basketball, Rugby
Doug McGinn – Walnut Grove Sec: 20 yrs – Basketball, Soccer, Volleyball
Nicole Saumier- HD Stafford Mid: 20 yrs – Basketball, Curling, Track & Field
Chris Veale – Brookswood Sec: 20 yrs – Basketball
James Johnson – Langley Fundamental Mid/Sec: 21 yrs – Basketball, Track & Field, Volleyball
George Kozlovic – Walnut Grove Sec: 21 yrs – Basketball, Volleyball
Nelson Spring – Aldergrove Sec: 22 yrs – Basketball, Track & Field, Volleyball
John Blaauw – Yorkson  Creek Mid: 23 yrs – Badminton, Basketball, Cross Country, Track & Field, Volleyball
Dan Renaud – Aldergrove Sec: 23 yrs – Basketball, Hockey, Volleyball
Mamie Field – Yorkson Creek Mid: 24 yrs – Badminton
Colin Van Delft – Credo Christian High: 24 yrs – Basketball, Track & Field, Volleyball
Wendy Cook – DW Poppy Sec: 25 yrs – Badminton, Basketball, Cross Country, Track & Field, Volleyball
Russ Furse – DW Poppy Sec: 25 yrs – Golf, Gymnastics, Volleyball
Greg Tener – DW Poppy Sec: 25 yrs – Basketball, Volleyball
Rory Allen – DW Poppy Sec: 26 yrs – Basketball, Cross Country, Volleyball
Dave Hetherington – DW Poppy Sec: 26 yrs – Cross Country, Track & Field
Darrin Ponak – RE Mountain Sec: 26 yrs – Basketball, Hockey, Rugby, Soccer
Terry Stead – Walnut Grove Sec: 26 yrs – Basketball, Volleyball
Debbie Becker – DW Poppy Sec: 27 yrs – Basketball, Hockey, Swimming, Volleyball
Don Sparks – Walnut Grove Sec: 27 yrs – Basketball, Cross Country, Track & Field
Neil Brown – Brookswood Sec: 28 yrs – Basketball, Cross Country, Soccer
Mary-Ann Lochbaum – Brookswood Sec: 29 yrs – Basketball, Cross Country, Track & Field, Volleyball
30+ Years
Jenny Bisset – Langley Fundamental Mid/Sec: 30 yrs – Volleyball
Gordon Dennison – Aldergrove Sec: 30 yrs – Cross Country, Football, Rugby
Kris Elliott – RE Mountain Sec: 30 yrs – Basketball, Volleyball
Brian Hunter – Aldergrove Sec: 30 yrs – Rugby, Soccer
Debbi McKinnon – RE Mountain Sec: 30 yrs – Cross Country, Track & Field
John Callaghan – Yorkson Creek Mid: 31 yrs – Badminton, Basketball, Volleyball
Brian Kimoto – Yorkson Creek Mid: 32 yrs – Basketball, Track & Field, Volleyball
Philippe Legentil – Brookswood Sec: 34 yrs – Badminton, Basketball, Cross Country, Soccer, Tennis, Volleyball
George Bergen – Walnut Grove Sec: 34 yrs – Basketball, Soccer, Volleyball
Angelo Pulice – Langley Secondary: 35 yrs – Soccer
Langley Fundamental Middle/Secondary School: Jenny Bisset, James Johnson, Chantelle Martin, Henderson Tran, Jan Ellison, Dave Kristman, Thomas Miller, Rod Gettel, Matt Lewis, Kristi Robertson, Dan Johnson, Neil Mackinnon, Tamera Shearon
Langley Secondary School: Scott Abbot, Marvin Foss, Sandra Kardos, Dave McLeod, Aaron Powell, Dave Sheppard, Tiffany Daniel, Peter Gallant, David Lewis, Ron McWilliams, Angelo Pulice, Dawne Tomlinson, Lisa Ellis, Tiim Gonsalez, Gurp Mahil, Kevin Phillips, Chris Rinke, Megan Wood, Glenn Foreman, Jodan Howlett, Gord McCarthy, Ryk Piche, Nancy Shatzko, Mark Wyse
R.E. Mountain Secondary School: Daniel Adimora, Kris Elliott, Abigail Kim, Carrigan Lutman, Darrin Ponak, Pol Babao, John Hantke, Mike Knott, Elsabee Lyon, Gura Sidhu, Darcy Carroll, Rob Hayes, Jeff Koruz, Debbi McKinnon, Kirk Weiss, Daniel DenHaan, Alex Jones, Daniel Lindbjerg, Chan Oh
Walnut Grove Secondary School: Erin Anderson, Kyriakos Costopoulos, Kadyn Foster, Denby Johannesson, Ben Kotanen, Doug McEachern, Tanis Payne, Don Sparks, Steve Wilson, George Bergen, Paul Favaro, Stephanie Granger, Glen Johnston, George Kozlovic, Doug McGinn, Darren Rowell, Terry Stead, Chris Bertoia, Dana Ferguson, Sandy herbert, Jeff Keen, Gary Lutes, Gracjan Nowakowski, Juanita Rowell, Jason Tait, Jason Christensen, Michelle Fiola, Grant Inkster, Glen Knodel, Ritchie Mallari, Alfonso Ocampo, Matt Scobie, Dylan Williamson
Yorkson Creek Middle School: Brenda Barlow, Mike Carlyle, Tammy Farrer, Colleen Hall, Duane Kroeker, Daniel Lindbjerg, Rob Norton, Tamara Pudlas, Scott Smithson, Simon Wu, John Blaauw, Clara Clapton, Jon Fast, Colin Josephson, Alan Lam, Dameon Lorensen, Deah Paton, Keith Punnett, Marnix Vanturennout, Lisa Bull, Harpal Dhaliwal, Sandy Fast, Abigail Kim, Ray Lee, Gail Markin, Kim Payne, Kevan Reeve, Lori Villeneuve, John Callaghan, Tim Everson, Mamie Field, Brian Kimoto, Tom Lee, Paul Munnallal, Amber Proust, Kat Sahota, Sara Williamson, Elizabeth Yoon
Aldergrove Community Secondary School: Katie Caines, Amber Devriendt, Brian Hunter, Nelson Spring, Aimee Corrigan, Sunny Dhillon, Ray Lee, Stuart Crowley, James Gordon, Dan Renaud, Gord Dennison, Kim Haber, Sara Schmit, Shirley  Wong
Betty Gilbert Middle School: Zoltan Bako, Ravi Mehan, Mike Towle, Harry Frank, Selina Miller, Alan Joo, Desi Rae Shalaby, Gregory Kilvert, Ben Sykes, Matt White
Brookswood Secondary School: Devon Allen, Ray Bright, Dino Camparmo, Larry Goldsack, Paul Jasper, Jeff Mitchell, Adam Salter, Chris Veale, Jenn Allen, Neil Brown, Erin Day, Kristen Hind, Philippe Legentil, Chris Ogden, Manraj Sidhu, Dan Allingham, Ryan Cameron, Graham Esplen, Carl Hunter, Mary-Ann Lochbaum, Jyoti Pawar, Brian Smith, Kyle Andreson, Sarah Cameron, Charlotte Fevang, Ian Jackson, Jeremy Lyndon, Justin Rettig, Kelsey Stewart, Jennifer Weslowski
Credo Christian High School: Colin Van Delft
D.W. Poppy Secondary School: Rory Allen, Sandi Began, Wendy Cook, Russ Furse, Chris Janzen, Wayne Loewen, Curt Romey, Sydney Weibe, Brian Anderson, Nick Chabara, Mark Donkers, Aaron Gollub, Brendan Kwiatkowski, Mike Munsie, Harry Senkler, Kyle Barry, Beth Clarke, Carrie Fast, Dale Harrison, Geoff Labine, Casey Murray, Rose Stahl, Debbie Becker, Bill Colorado, Walt Foss, Dave Hetherington, Greg Leino, Vicki Nirranen, Greg Tener
H.D. Stafford Middle School: Will Bailie, Cheryl Chapman, Stephanie Hamilton, Jermaine Kemp, Stu Mitchell, Nicole Saumier, Chad Bedard, Shawn Davids, Brad Hendry, Lara Lacroix, Aaron Rowe, Aly Van Nieuwkerk, Chris Brandolini, Colleen Dzogan, Mindy Janzen, Lara Lavery, Reyhan Safiq, Kahla Yzerman, Roland Calderon, Graham Grill, Nicole Johnson, Madison McArthur, David Sandquist, Pat Zawaduk
Langley Christian Middle/High School: Jon Kuehl, Jesse Zuidhof,