Staff News: February 2016
February 29, 2016
Another pro-d day is in the books!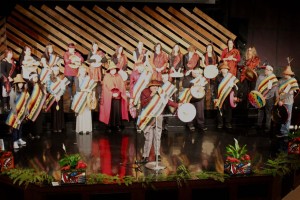 Thank you to everyone who attended professional development events in Langley last Friday. From the Athletics Visioning meeting to the powerful stories of reconciliation to kick off the day at Odyssey and beyond, we reached nearly 1400 staff from Langley and beyond! We hope that your day was filled with high-calibre learning that helps you in your professional practice. If you have any feedback about our most recent pro-d day or have any suggestions for future professional development topics or speakers, please contact the Professional Services department at thinklangley@sd35.bc.ca.
EdCamp35 Returns 
Langley's annual "un-conference" is back at HD Stafford for its third year on Saturday, April 16th. Join educators, students, parents and community members to collaborate and discuss any aspect of our schools and classrooms you'd like. Participants in this free, engaging event are invited to bring their own ideas and suggestions for topics. To register or find more about EdCamp35, visit edcamp35.com.
Fundraiser for Eric Santema
A fundraiser in January organized by co-workers of Eric from the Maintenance Department has raised $7500 to assist Eric and his family as he undergoes intensive medical treatment. Mark Dissing, one of the organizers, would like to thank all staff that supported the event on behalf of Eric for their generosity.
Long Service Awards Celebration
The Langley School District Board of Education is pleased to recognize employees who have given 20, 30, 40 or 50 years of service to the students of Langley.
Fifty-Year Service Award: Elaine Hough.

Forty-Year Service Award: Pamela Fee, Joanne Rempel.

Thirty-Year Service Award: Sarah Bauder, Kristine Elliot, Rob Goddard, Edward Hamilton, Patti Johnson, Barbera Peck, Elaine Scovell, Diana Spori, Debbie Stoddart.

Twenty-Year Service Award: Karen Beatty, Karen Bradley. Rheann Broekhuysen, Wendy Babica, Brad Cairns, Dino Camparmo, Louise Campbell, Shirley Cho, Lisa Ellis, Sandy Fast, Cheryl Fernandes, Debbie French, Michele Gore, Brenda Gough, Janie Jones, Silvia Knittel, Darlene Kopfensteiner, George Kozlovic, Martine Lavoie, Hardip Lindner, Cora-Lee Lyster, Brenda Matthews, Lori McConnell, Greg McNeill, Brent Moore, Denise Neudorf, Cindy Oppenshaw, Julie Penner, Shelley Pisiak, Elke Probert, Mitch Quinn, Elaine Regier, Francesca Regier, Gura Sidhu, Carol Steiger, Janet Stromquist, Don Tupper, Julie Vanberkel, Lori Walker.
(Pictured: (20yr) K. Beatty, K. Bradley, D. Camparmo, L. Campbell, S. Cho, S. Fast, C. Fernandes, D. French, M. Gore, B. Gough, J. Jones, M. Lavoie, H. Linder, L. McConnell, C. Oppenshaw, J. Penner, E. Regier, J. Vanberkel; (30yr) S. Bauder, K, Elliot, P. Johnson, B. Peck; (50yr) E. Hough).
Transport Breakfast
The annual Transportation Breakfast was held on the February 19th pro-d day – a day when the drivers of SD35 have a little time to get together early and meet. Members of the District Leadership Team and the Board of Education were present to thank those that keep people and goods moving around the District and enjoy some conversation and camaraderie. The Transportation Breakfast also includes the presentation of the 'not-so-coveted' Blooper Award, which was given to Evelyn Groenveld. You'll have to ask her why she has the honouree this year…
Admin Moves, Changing Assignments and New Staff
Please congratulate (and welcome!) the following administrators to their upcoming new roles:
Effective February 1 Chandra Balakrishnan moved from LFMSS to REMSS.
Replacing Chandra at LFMSS is Carla Clapton, former teacher at YCMS.
Lori Thomsen has moved from LFAS to Simonds U-Connect
Effective August 1 Jono Harris will move to LFAS from LSS.
Replacing Jono at LSS will be Jeff Dickson, currently a teacher at LSS.
Board News Headlines: February 23
Superintendent's Report: District Calendars 2016-2019
Superintendent's Report: Willoughby Slope Catchments
Superintendent's Report: K-9 Curriculum Re-Design
Secretary Treasurer's Report: Amended Budget Bylaw 2015-2016