National Day for Truth and Reconciliation & Half-Masting of Flags
September 26, 2022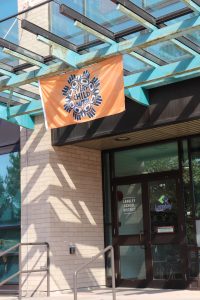 The District is sharing information from Superintendent Mal Gill to students, staff, and families regarding the National Day for Truth and Reconciliation and the Half-Masting of Flags in the District.
As you may be aware, the District will be recognizing September 30th as the National Day for Truth and Reconciliation and Orange Shirt Day. As part of our efforts to acknowledge the day in a meaningful way, the District will be joining other neighbouring school districts, to lower our flags for the week, beginning on Monday, September 26th at 12noon. In addition, an "Every Child Matters" flag has been raised at the south entrance of the School Board Office and will remain until Monday, October 3rd.
The National Day for Truth and Reconciliation is a day to honour the warriors who attended residential school and those children that did not return. As part of the District's learning and journey of reconciliation, Chief Marilyn Gabriel of the Kwantlen First Nation shared with administrators in a recent meeting, the importance of language when discussing the individuals who returned from residential schools. As she said, they are more than survivors, they are warriors because of their bravery, courage, and resilience. September 30th is an opportunity for everyone to learn about the history of the residential school system and the legacy that continues to affect our community today.
In the Langley School District, learning opportunities will be held throughout the week in schools and District buildings to engage students and staff in reflection and conversations to promote deeper understanding. On September 29th, students, staff and community members are encouraged to wear orange shirts as another simple way to honour those affected by the residential school system. The orange shirt is a symbol of the stripping away of culture, freedom and self-esteem experienced by Indigenous children over generations, while also promoting the concept of "Every Child Matters". You can learn more about orange shirt day here.
Thank you,
SD35 District Leadership Team