Making a Difference in the Lives of Others: Evening of Inspiration
June 4, 2019
"You didn't have to. You could've left it to others."
That's what Gord Stewart, Superintendent of Langley School District told the crowd of soon to be graduates at the annual Evening of Inspiration awards.
Stewart was thanking the 87 students for demonstrating the District's core values: integrity, courage, excellence, and community.
He carried on saying "You could've said 'I don't need to do that,' someone else could stand there and do it. But you chose to. You chose through your efforts, to make a difference in the lives of others."
These students come from all of the secondary schools in the District. They are individuals who have been described by their teachers and peers as "ambassadors, supportive and driven" showing leadership in academics, athletics, and citizenship. Some have overcome adversity and "walked away with resilience." They all have their own unique inspirational story and that's why they were honoured.
Here are profile highlights of just a handful of Evening of Inspiration recipients. The profiles have been created by teachers and counsellors connected to the students. Thank you to all winners for making the Langley School District community proud!
Aldergrove Community Secondary School
Jeremy Lohnes
You would be hard pressed to find another student at ACSS who is as passionate about being a Totem as Jeremy Lohnes. Courage, Excellence, Integrity and Community, Jeremy lives these core values on a daily basis. In the classroom, he earns tops marks in a variety of curricular areas including French Immersion, music, and leadership. Jeremy has earned a number of accolades for his academic excellence: honour roll, Totem List, Dream, Believe, Achieve Award, to name a few. While his commitment to academic excellence is admirable, his unparalleled passion for serving his school community is second to none. As student council president for the second year running, there is very little that Jeremy is not involved in: Totem Ambassadors; grad council; peer mediator; musical theatre, and the list goes on. Jeremy volunteers in the community as a Karate instructor, judge and referee; attended Rotary Canada's "Adventures in Citizenship" program in Ottawa, sang in the MyVoice young men's choir and participated in the Langley Youth Advisory Committee. He was recently awarded Rotary's SASSY award for excellence in community leadership. In the fall Jeremy will be attending Simon Fraser University on a full academic scholarship to pursue a career as a high school French teacher or an air traffic controller. Jeremy, the two professions are a lot more similar than you might think. Congratulations Jeremy!
Brookswood Secondary School
Josh (Yaehoon) Kim
Josh is Co-President of Student Council at Brookswood Secondary. He is a musician, public speaker, actor and honor roll student. In 2018, Josh struggled with mental health issues related to depression and anxiety. Growing up in a challenging financial situation, and encountering cultural and social barriers, Josh has learned the value of hard work and perseverance leading to success. He was chosen by the National Ambassador Youth Forum as an ambassador for French for the future, and travelled to Montreal to engage in week long workshop on the importance of bilingualism. Upon returning he became one of the key organizers for a bilingual TEDxYouth@Langley event and created a French club for the school. As an advocate of student voice, he is proud of emerging as a representative of his school despite his personal struggles, and believes in the strength of bringing people together through the arts, activism, and community service. Josh is fluent in Korean, French & English and has accepted a full ride scholarship to Colgate University in New York. In his own words, Josh cannot wait to study neuroscience at one of the first post-secondary institutions to spearhead the neuroscience undergraduate program in the States and to start a mental health program for at-risk youth one day.
D.W. Poppy Secondary School
Paige Kidder
An exceptionally brilliant and gifted writer who has been writing for Student Success magazine since 2015, Paige is the essence of creativity and someone who personifies the core values of Excellence, Integrity and Community. The Senior Editor of this year's Poppy Yearbook and an assistant editor last year, Paige can always be seen at school events seeking to capture the perfect picture or moment.  A member of Grad Council, Paige is someone that her peers – both younger and older – look up to and admire through her involvement in school leadership.  Paige is a key member of the Global Voices club where she leads discussion and promotes global issues such as poverty, social justice, and sustainability, and often uses her spare time to fundraise for these causes.  She also is one of our senior leaders in our leadership program and Paige excels in this role because of her genuine appreciation for all people and speaking for those who do not have a voice.  She has demonstrated a deep interest in learning about the Aboriginal peoples of BC as well as her desire for truth and reconciliation and in doing so, expressed how limited awareness of cultural diversity can have a negative impact on community.  Paige is heading off to UFV next year where she will be studying Media Arts as she pursues a future career that will allow her to put her creative talents to good use!
Langley Fine Arts School
Duncan Ryans
A talented actor and filmmaker, Duncan's work on stage and in film has been recognized in lead roles and with film awards and scholarships. His peers admire his abilities and enjoy working with him because he is kind, courageous and passionate about both the arts and about social justice. Duncan is an outstanding leader whose words and actions inspire adults and peers to take-action. His recognition of the importance of Truth and Reconciliation prompted Duncan to use his artistic voice and film skills to encourage his peers to get involved with the Moosehide Campaign. He spoke locally and at the Provincial conference in Victoria and has been recognized as an ambassador for the Moosehide Campaign at the National and International level. Duncan's ability to network and rally support is rooted in his genuine desire for equality, social justice and inclusivity. Duncan was selected by his peers and teachers as the Valedictorian for Drama. Duncan will be pursuing a Linguistics degree at Simon Fraser University in September.
Langley Fundamental Middle/Secondary School
Kirsten Cheung
Kirsten Cheung is as comfortable walking into a science class as she is walking into English or math or socials studies. She not only excels in all these subjects, but she enjoys them all too. Kirsten is simply a passionate learner who confronts knowledge with an open mind and a critical eye. She is a lifeguard and a swim instructor. She is also a quiet leader who works diligently on grad committee to help organize and more importantly to do the work that makes events happen.  Kirsten seized the opportunity to travel to Ottawa this year and her observations regarding parliament perhaps best capture her strongest attributes. She was disappointed in the behavior of our elected officials who she says yelled a lot and listened very little. Kirsten knows that effective leadership begins with respect, teamwork and collaboration, and even beyond her intelligence and strong work ethic, these are the qualities that Kirsten possesses, the qualities that make her truly inspiring.
Langley Secondary School
Elise Mozaffari
Elise Mozaffari is an exceptional young woman who represents excellence in all that she does, and in all that she is.  In terms of her academics, Elise's inquiring and analytical mind, attention to detail, and willingness to work hard and fully engage have led her to rare and exceptional academic results, achieving 100% in such diverse courses as Biology 12, English 12, Physics 12, and French 12.  Interestingly, though, when her teachers are asked to describe Elise, the first words they use are about her character and her focus on making her school community a better one.  In terms of her character, her teachers use words like dedicated, attentive, articulate, helpful, supportive, inclusive, and humble.  Elise eagerly seeks any opportunity to give back to help others.  She has dedicated almost 400 hours to various leadership initiatives around the school, this year alone.  She also dedicates every free moment she has to tutoring other students during flex and lunch hours, as well as helping teachers after school.  In short, Elise demonstrates the District's Core Value of Excellence, firstly in her academic achievement, but more importantly, in who she is and in how she makes Langley Secondary School a better place for everyone with whom she comes in contact.  Thank you, Elise, for the excellence you demonstrate every day, and with everyone.
R.E. Mountain Secondary School
Chantel Johnson (left in photo)
How fun it has been to watch Chantel as she has matured into an amazing actor, helping lead her improv team to the nationals twice in her grade 11 and 12 years where they placed 4th this year. Her courageous comedic and dramatic roles have been hilarious, thought provoking and memorable including playing the part of Margot in "The Diary of Anne Frank". Described as a kind-hearted and good-natured person, Chantel leads with resilience, respect, responsibility and trustworthiness. She also uses her talents to help mentor and coach other actors on the junior improv team. The excellence she shows in her acting is also exemplified academically as she did all this while maintaining her place on the honour roll throughout her time at Mountain. Chantel's work on the stage displays the skills of a dedicated actor and comedian.  Comfortable in both comedy and drama, she has set a standard for our improv teams and drama ensembles. Chantel has received a $27,000 entrance scholarship and the Horatio Alger scholarship toward her university entrance into the Faculty of Arts and Social Sciences at SFU.
Jessica Johnson (right in photo)
Another amazing actor, Jessica is a leader who is hardworking and effervescent. Maintaining her place on the honour roll throughout high school, Jessica exemplified excellence in acting through the roles she has played, such as one of the key jurors in 12 Angry Jurors and as she helped to lead the improve team to the nationals over the past two years where they placed 4th this year. She is a courageous team player and not one to shy away from speaking up when needed around an improv scene. Jessica is comfortable in the spotlight but is also happy to serve behind the scenes, stage managing "The Diary of Anne Frank." Her integrity is displayed through her consistent ability to rise above that which is going on around her, always maintaining her delightful disposition and natural smile. Jessica's quick and sharp humour has been a huge contributor to our improve program over the years.  Her performance skills are matched only by her dedication to the program as a leader and as a mentor as well. Jessica has received a $27,000 entrance scholarship and the Horatio Alger scholarship toward her university entrance into the Faculty of Arts and Social Sciences at SFU.
U-Connect
Ben Heyns (right in photo)
It has been our utmost pleasure to have had an opportunity to work with Ben. He is a very driven student who exemplifies excellence in all that he does. He is the student who exceeds expectations on any challenge that he faces including demonstrating academic excellence by achieving a very high average while still maintaining strong extra-curricular involvement.  Years ago, Ben was a shy guy and you would never have guessed he would have such hidden talent but the past could of years, Ben has been an important contributor to our school's musical theatre program including being a lead actor in the past three Musicals.  He is often collaborating with his classmates in technology to develop program language in virtual reality and was part of a select group of students who presented at the recent IDEA X.  In his spare time, Ben is involved in the equestrian world and has shared his interest in horses with young people through the camps held at his barn.  Overall, Ben is very creative in his thinking and we have no doubt that we will be hearing about great things he will accomplish in his future!
Liam Troan (left in photo)
As an active member of the U-Connect student population, Liam has shown commitment and dedication to building connections through his care and consideration of others.  He has excelled in our Musical Theatre program for the past five years by spending hours honing his craft and asking for guidance to develop his skills.  Academically, Liam pushes himself to excel through a high degree of perseverance and commitment to learning.  He can be heard debating and challenging ideas and belief systems in a way that is both respectful and intelligent.  He is intrigued by what others think and is interested in delving into how to make the world a better place.  Most recently he worked diligently towards his goal of inspiring the next generation through his forward thinking and inspiring thought process in developing and presenting his IDEA X project.  Finally, Liam shows his integrity and kindness towards others by tutoring in math and he takes great pride in helping others achieve their goals.  His peers feel that he is easy to get along with and is the epitome of our school's motto – BE KIND.
Vanguard Secondary School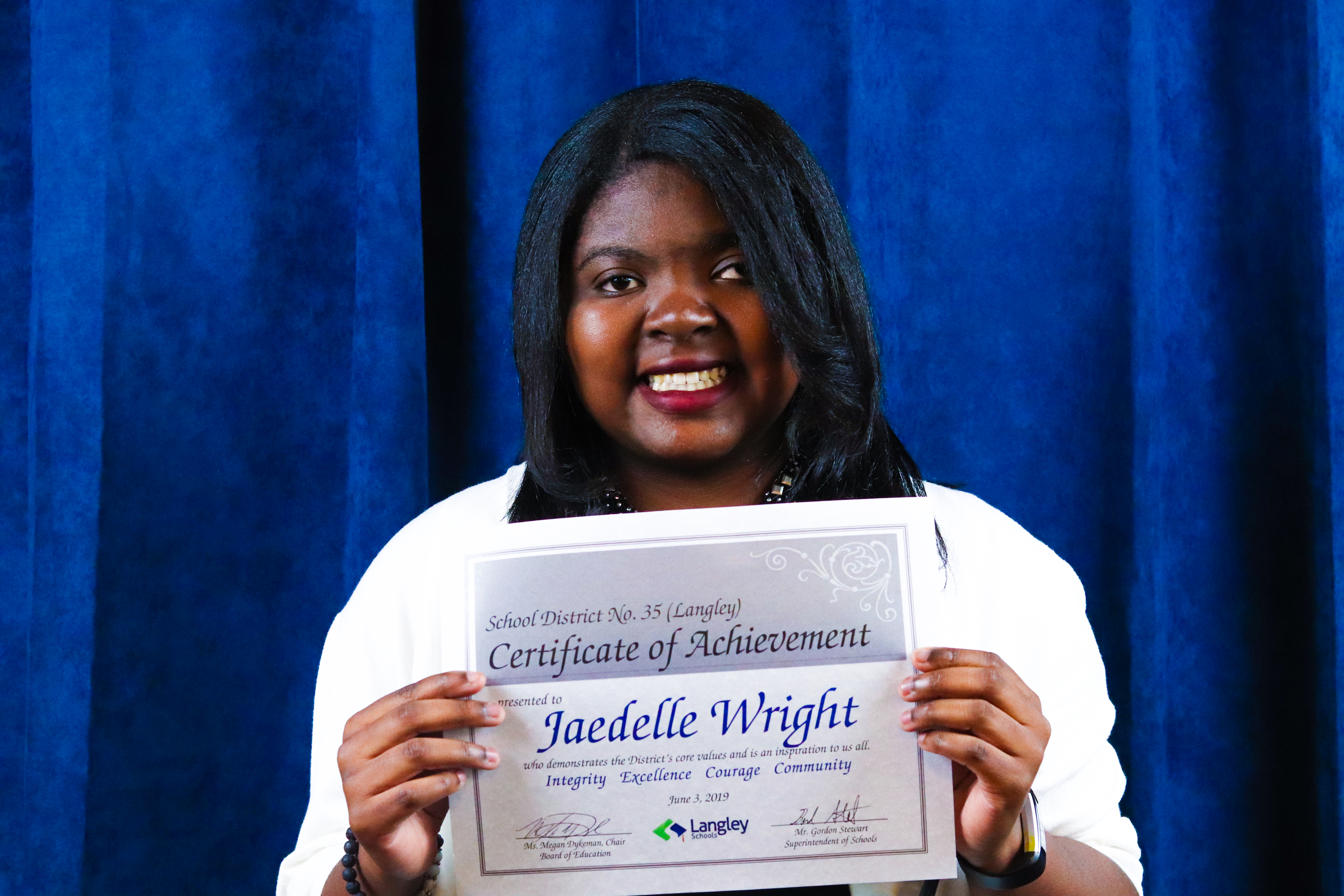 Jaedelle Wright
Jaedelle Wright has been a gift to the students and staff of Vanguard. Her positive, upbeat presence can be felt by staff and students. Jaedelle has courageously overcome many medical obstacles throughout her school years.  She has spent many hours in Intensive Care recovering from multiple heart surgeries and multiple critical eye surgeries.  Despite these challenges, her capacity to communicate and self-advocate for herself and others is inspirational.  Jaedelle volunteers her time working with children at her Community church.  This has helped in affirming her post-secondary decisions of becoming an Early Childhood Educator.  Jaedelle's non-judgmental, accepting, and positive nature will help her continue to be a leader in all aspects of her life.
Walnut Grove Secondary School
Matthew Martens
Mention the name Matthew Martens and watch the admiration appear on people's faces.  He is an incredibly inspiring young man who has demonstrated extraordinary persistence and resiliency both at school and in his personal life.  He has experienced heartbreaking family dynamics and has seen both his mother and uncle battle cancer.  The old cliché applies here in that "What does not kill you only makes you stronger": in this case it has made him not only stronger but incredibly compassionate and caring!  Matt would never boast but he has a plethora of accomplishments including an 86% average, being Captain of the school's Sr Boys' Basketball Team, being one of the elite three point shooters in the Province, spearheading the school's Moose Hide Movement, and playing a vital role in the school having a record year raising $27,000 for the Terry Fox Foundation.  Despite having faced great personal adversity, Matthew is a positive and supportive member of the WGSS community.  He routinely goes out of his way to ensure that other students and staff members feel accepted and respected in the school and he is always the first person to offer a word of encouragement to anyone who needs it.  These admirable traits make Matthew a truly inspiring member of the community.