Leaving a Positive Legacy for the Future: Retirement Celebration
June 20, 2022
"They impacted students and made a difference in their lives."
This phrase was heard several times at the District's annual Retirement and Service Awards. Thirty-six retirees from various departments in the District were honoured along with dozens of employees who were recognized for 20, 30 and 40 years of service.
Throughout the evening, professional and personal stories were shared, causing emotional reactions, tears, laughter, and joy, for those in the audience. Each employee's story was unique, exemplified the District's value of integrity, excellence, courage, and community, and most importantly was a testament to how the individual impacted the lives of students. No matter what department the individual worked in, it was evident from the stories, each employee had connections and helped contribute to the District's Vision of being an innovative, inspiring and unified learning community. The District honours all of our staff and is sharing a sample of their stories.
Brookswood Secondary Principal, John Pusic, was among the retirees celebrated. Pusic has been in education and working in the District for more than 30 years. He began his career as a Math and Physical Health Education teacher and worked his way into administration in schools including Aldergrove Community Secondary, R.E. Mountain Secondary, and ending at Brookswood Secondary. He has taken his passion for integration technology to new levels at his school, helping make Brookswood become one of the only Apple Distinguished Schools in Canada.
Aboriginal Support Worker, Brenda Matthews, is retiring after dedicating decades of service to the District and the students of Langley. Matthews was praised for her grace, humour, and humility. She was also credited for starting the Aboriginal Education Program and improving the lives of countless Indigenous students over her career.
Custodian, Rheann Broekhuysen, is ending her career after having served in the District since 1996. Broekhuysen has worked at a variety of schools including Langley Fine Arts, Aldergrove Community Secondary, Otter Elementary, Glenwood Elementary, Brookswood Secondary, and D.W. Poppy Secondary. She makes connections with staff and students and holds students to a standard of respect and care for their building. She cares for others, to the point, where she is known to bring breakfast to one of the office assistants in the morning at her current school.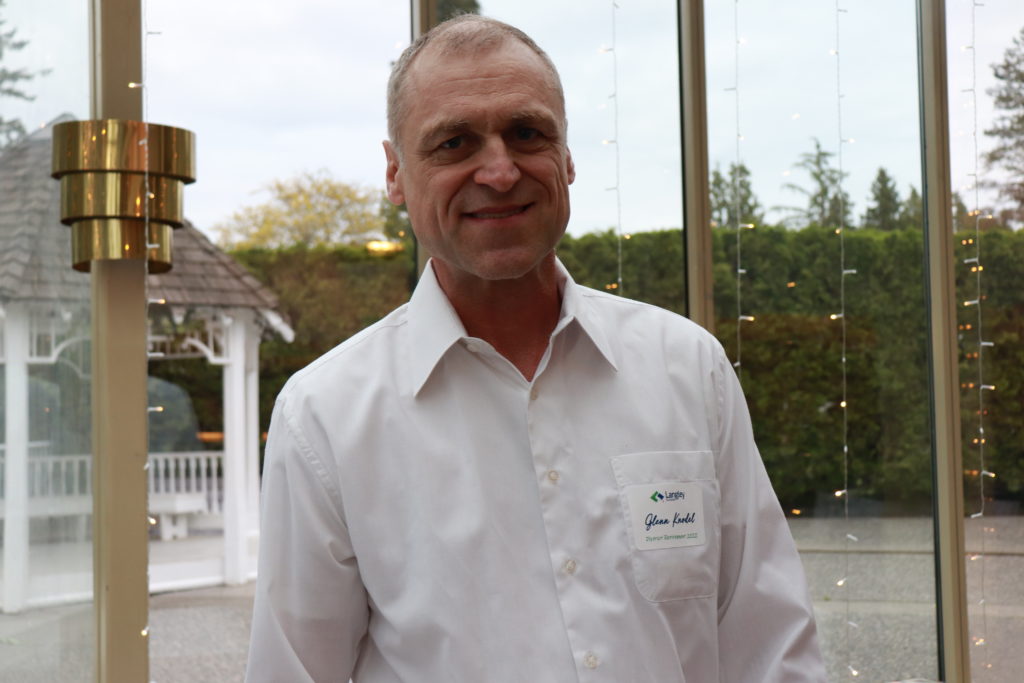 Teacher, Glen Knodel, started his career in the District in 1989. He taught at D.W. Poppy Secondary and Brookswood Secondary, before making his way to his home at Walnut Grove Secondary. Knodel is an energetic teacher with a huge heart and a passion for athletics. He has successfully supported many students inside and outside of the classroom, specifically on the hard court as a basketball coach.
Teacher, Marvin Moedt, dedicated more than 30 years of his career in education. He started as a TTOC in the District, followed by term teaching positions, until he took a position with the Career Education Department. In Moedt's next role, he oversaw the District Work Experience Program and transformed it into what's now known as Career Discoveries, with a focus on individual students, real work, and community integration. He has worked with hundreds of Langley organizations and businesses and students. To the amazement of the audience, he remembers all of his students and their unique stories.
The District is proud of all of our staff and is deeply grateful for their compassion, care, and dedication serving the students and their families in the Langley. Congratulations and good luck to the next phase of your life!
Scroll through the gallery below for more photos from the District Retirement and Service Awards.