Langley Students Win Top Awards at Provincial French Public Speaking Competition
May 25, 2016
"The accomplishment to do this at a provincial level and in French is highly impressive and something we should be celebrating! Congratulations also to the teachers that worked so hard to prepare these students."

– Langley Schools Assistant Superintendent Claire Guy
From the initial 10,000 students in the contest, thirteen students from Langley made it to the provincial finals to compete among 260 other finalists from BC at this year's pan-provincial French public speaking competition, Concours d'art oratoire. Canadian Parents for French BC & Yukon sponsors the annual Concours d'art oratoire and the competition is in its 33rd year. The provincial finals were held May 7 at SFU Surrey.
"It's an incredible feat to make it to the Provincial finals — taking home a medal is a real achievement. We congratulate everyone who participated; they are all winners. Félicitations!"

– Concours d'art oratoire chief judge, Dr. Renée Hamilton-Clark.
2016 Provincial Winners from Langley:
2nd Place
Seraphina Rizkallah
Grade 7 Early Immersion: "La Réalité des Sports"
– James Kennedy Elementary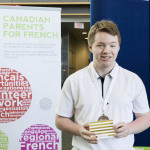 3rd Place
Jeremy Lohnes
Grade 9 Immersion: "La Privation du sommeil"
– Aldergrove Community Secondary
2nd Place
Kennedy Laird (no picture available)
Grade 6 Early Immersion: "Ma Vie folle"
– Belmont Elementary
2016 Provincial finalists from Langley:
Luke Vasianovych – Grade 6 Francophone: "Les Extraterrestres" – James Kennedy Elementary
Atkinson Kuo – Grade 6 Early Immersion: "Pourquoi apprendre le français" – Alex Hope Elementary
Jason Kondos – Grade 7 Late Immersion: "Je suis immigrant" – Noel Booth Elementary
Christine Cooper – Grade 8 Immersion: "L'Univers" – Betty Gilbert Middle School
Alex Lanigan – Grade 8 Francophone: "La pollution de l'air" – Brookswood Secondary
Katie McManus – Grade 9 Core French: "Pourquoi les livres sont un bon passe-temps" – RE Mountain Secondary
Julia Van Ingen – Grade 10 Immersion: "Le Viol" – Walnut Grove Secondary
Brandon Gerts – Grade 11 Immersion: "Est-ce la fin du monde?" – Brookswood Secondary
Rebecca Hughes – Grade 12 Early Immersion: "Toucher le fond" – Brookswood Secondary
Paul Katia – Grade 12 Core French: "L'École étouffe la créativité" – Brookswood Secondary