District Athletics Evening
June 14, 2016
Friday May 7th the Langley School District celebrated and honoured the dedication of the many coaches and athletic directors who inspire and support our students through demonstration of the District's Core Values of Integrity, Excellence, Courage & Community.
The event was themed around Building a Lasting Legacy and began with a welcome and introductions from Acting Superintendent Gord Stewart. Micheal Munsie, President of the LDSSAA recognized the first-year coaches and expressed appreciation for their willingness to take on coaching roles.
The first award of the evening was the 'Difference Maker' Award that was presented posthumously to longtime LFMSS coach and teacher Jim Ehman. Members of Jim's family were on hand to accept the award that will be presented in the future as the Jim Ehman Memorial Difference Maker Award.
Coaching Excellence Awards were presented to coaches that have been leaders in the Langley School District for 10+ years, 20+ years and 30+ years. Thank you to all coaches that make athletics in Langley Schools so special for so many students.
Also recognized were three outstanding coaches that will be inducted into the to-be-constructed Coaches Wall of Distinction that is to be featured at the Gate 1 entrance of the Langley Events Centre. The inductees for 2016 were Greg Leino (DWP), Ivan Adrian (BSS) and Grant Inkster (WGSS).
This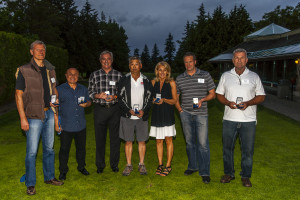 event was the first of its kind but going forward this will be an annual recognition event in Langley School District.