Connecting with the Community: Q&A with Community School Coordinators
November 14, 2022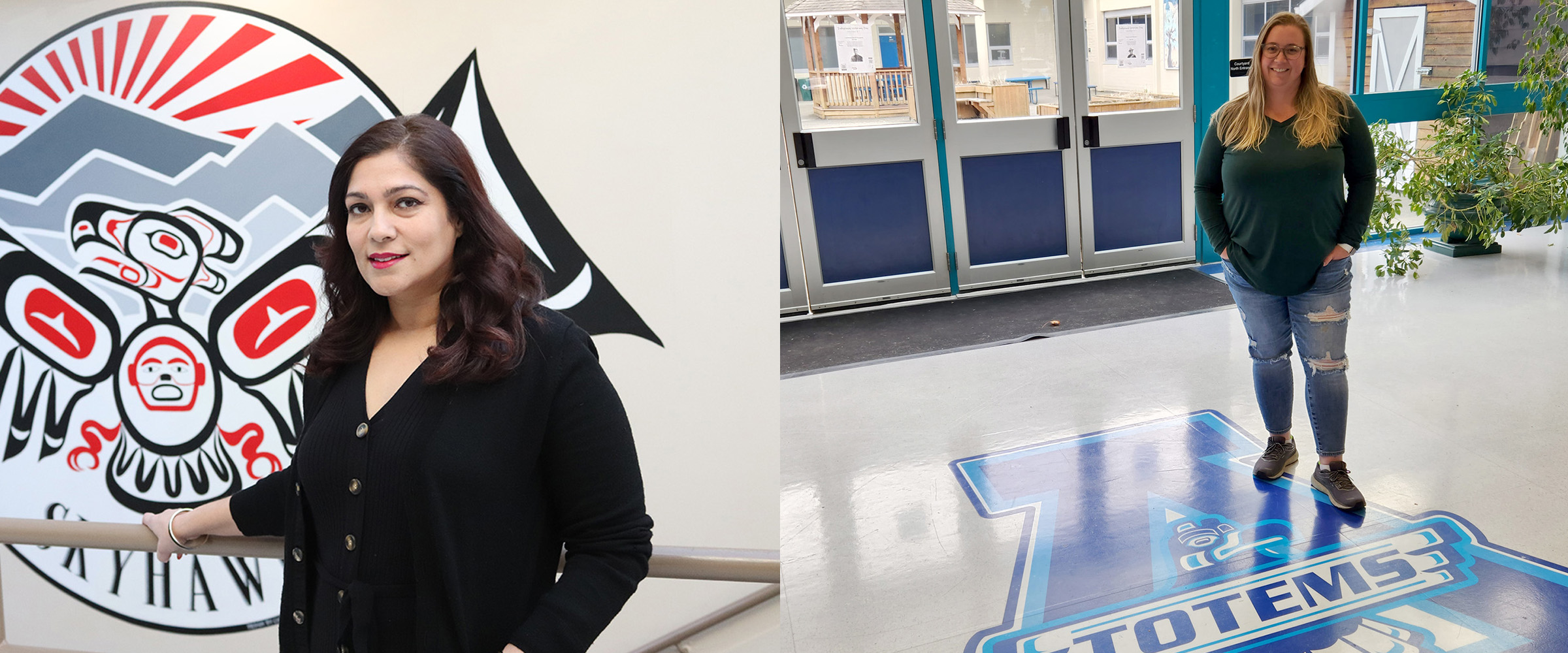 Last month, the District held a community resource fair at H.D. Stafford Middle School in conjunction with parent-teacher interviews, as a way to help students and families become familiar with, and connect to, resources in the community. Organizations that took part in the event included Ishtar Women's Resource Society, Langley Hospice, The Foundry, Big Brothers and Big Sisters, Salvation Army, Timms Community Center (Langley City), Family Smart, and Encompass.  
The event was organized by Kinder Sandher, who is one of the District's two Community School Coordinators. Stephanie Eby, who works out of Aldergrove Community Secondary School, is the other, and we spoke with both of them about their roles in the Langley School District. 
What is your role in the District, and what is the main part of your job?
Kinder: My job is to connect with the (Langley Secondary School) Family of Schools and support families within the schools, as well as connect them to resources in the community. ​ 
What inspired you, or led you to take on this role in the District? 
Stephanie:  I have always loved working with youth. I've been involved in community recreation since I was old enough to volunteer, and I had worked and volunteered in Aldergrove in the past and love how it's such a tight community! 
What does your job entail on a day-to-day basis? 
Stephanie: The fun thing is that it's always changing. I support the family of schools in Aldergrove, including two elementary schools, a middle and a secondary school. I assist with breakfast programs, I help coordinate donations for the Breakfast Club of Canada schools. I split my time between the schools and help to bring out-of-school programs to each. I meet with students or families to connect them to community resources. Then I liaise with a variety of community organizations to help support our community.  
How important is it to have community partners working closely with the schools and District? 
Kinder: It is incredibly important to work closely with our community partners. When it comes to supporting students and their families, it takes a village, and we are so grateful for the partnerships we have with community organizations. I believe it is helpful at the school level to break down any barriers that the families may have in accessing support, and to help provide information to the families. Some families experience barriers for many different reasons: internet access, knowledge of supports in Langley, and do not know if they meet the requirements to access these resources… (and) by meeting someone in-person it gives people the ability to open up and hopefully feel more comfortable receiving support. 
Stephanie:  Our families build relationships with school staff and often rely on school programs for food, mental health, social supports and more. Schools do everything they can to meet these needs, but we can't do it without our community organizations and services.  When we all work together, we're able to connect families to their community and create sustainable solutions for everyone. 
How would you describe H.D. Stafford's community resource fair? What is the purpose of these types of events? 
Kinder: Our first annual HDSMS Resource Fair was an event for all students and families to access information about organizations and supports in the community and different partner groups that families can connect with. I wanted families to be able to come to one place to make connections and realize what is available. Having worked in the District for over 15 years, I know the needs of our students and families, so it was wonderful that we were able to create an event where we were able to bring agencies together. 
What did people take away from the event? What did they learn? 
Kinder: They learned about different resources, information, brochures, free services and got to meet people that would support them. For many, it was the first step for them to start receiving and accepting support. This was a safe, inclusive event that showed families that they are supported in our community. It was a great success. I look forward to organizing a resource fair every year. I want to do everything I can to ensure that every child and every family is supported.  
What is the most rewarding part of your job? 
Stephanie: Helping families. Knowing I've made a difference to some families feeds my heart. I'm very thankful for the work I get to do. 
Kinder: Knowing that I have made a difference in the lives of our families, and they are supported and connected to the community. The smile on their faces makes it worth it, I love to see our families happy. 
See below for photos from the recent Community Resource Fair at H.D. Stafford Middle School: