Collaboration, Connection, and Culture: Students Beautify School with Aldergrove Legacy Project
February 8, 2021
"When we were starting the process, it was just mainly sketches and rough drafts and it looked good, but I didn't know how it would look, big up on the wall," says Maja, an Aldergrove Community Secondary School student, who is one of the creators involved in the Aldergrove Legacy Project.
She was one of many students who marvelled at seeing their finished four-piece mural hanging in front of the school one afternoon. A team of about a dozen student artists, along with their teachers at the school spent two years to complete a series of activities as part of the project, which was made possible thanks to an ArtStart grant. The project which was led by Teacher Brooke Leary aims to beautify space, build community, and honour the history and culture of Aldergrove.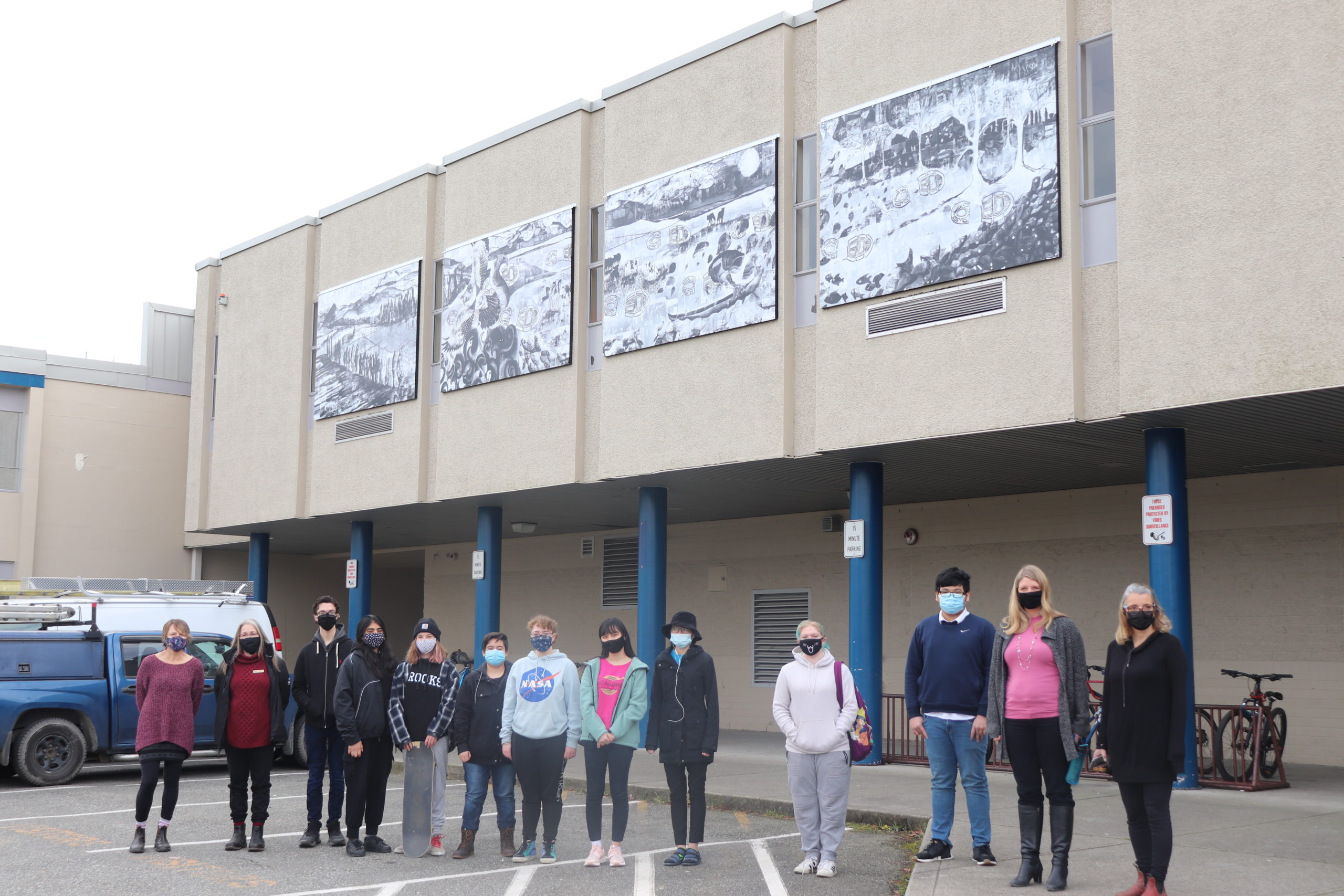 "Aldergrove Community Secondary is filled with compassionate, creative, and inspirational staff and students and I wanted the exterior of the building to reflect the inclusive culture that existed inside.  The hope was to create a mural that would honour our diverse cultural history, give students an authentic voice in defining our school's identity, and create a sense of pride in our school and community. I am so proud of what we accomplished."
"This project was about helping our school spirit and making sure that it felt more like a place to be instead of just school. So, we really tried to get a lot of people from different grades and different areas together to put their art skills or their creativity into a mural that looks pretty good in my opinion,"  explained Jolina, who is another student involved.
Her main task was to teach elementary school students in the Aldergrove region the basics of photography and encouraging them to take photos to be incorporated into the mural. It was a role which she was happy to take on as it she says it enables the younger generations feel "they contributed to it."
The mural is impressive, unique, but also natural. It depicts the landscape of Aldergrove but has intricate layers of transparent photos embedded into them like a mosaic.
"I think it brings beauty into Aldergrove. Not that there isn't beauty already, just sort of adds to it. It also reminds us like there were alder trees here before, it brings in all these different pieces in the community, and brings them into one nice composition," described Hunter, another student artist.
The students learned a lot of lessons, mainly working together and adapting to new ways of connecting with each other, in a global pandemic. Teacher Diane Courtney says collaboration was key.
"Being able to collaborate together and come up with ideas together, being able to put these designs and ideas and mesh them to create one whole composition that works together," explains Courtney, "was one of the important lessons learned for everyone involved."
"It was challenging because before COVID we would be in a group sorting images all together with a laptop. Now with COVID we couldn't be able to do that anymore, and we would have to do that all at our house, and that did make things difficult," adds Logan who was responsible for organizing images.
There is an expectation the project will impact the culture of the school and community in a positive way.
"I hope that a lot more people will be willing to contribute to more things in the school," says Trinity, another student contributor.
The group of students were proud to leave their 'mark' on the school. Many expressed their sense of pride and belonging. Tracie Stewart who was the community Artist and Mentor who was brought in to work with the students says the project and the process is meant to make a difference in the lives of students.
"There's so many kids that don't have a voice and the drawing process is one way for those kids to have a voice. So, for me to get to uplift them and, and help them find their voice is really important for me."
To learn more about the project and its significance to the community, you can visit this website here: https://acsslegacyproject.wordpress.com/