Brookswood students engage with local electoral candidates
October 12, 2019
The democratic process is making its way to Brookswood Secondary School.
Ahead of the upcoming federal election, grade 10 students at Brookswood Secondary had the opportunity to host their own all-candidates debate, even formulating their own questions.
"This is a unique opportunity for them to actually see our local candidates in the Township of Langley and Aldergrove, and actually pose some of their own questions," says principal John Pusic. "Which allows them to get connected and get involved in the election. You want them to have a sense of the decisions we're making as a country. And, the fact that they're going to be doing so, when they get to that age level, too."
The event was organized and hosted by Social Studies teacher Katie Glover. She spent time with students, helping them craft their questions, and encourage them to take issues that effect their lives.
Many of the questions posed were around issues such as post-secondary education, climate change, homelessness, support of women's and LGBTQ+ rights. They even queried wanna-be MPs on who they would vote for if they couldn't vote for themselves.
Candidates in attendance for the debate were: Tako Van Popta for the Conservatives, Leon Jensen for the Liberals, Stacey Wakelin for the NDP, Kaija Farstad for the Green Party, and Alex Joehl for the Libertarians.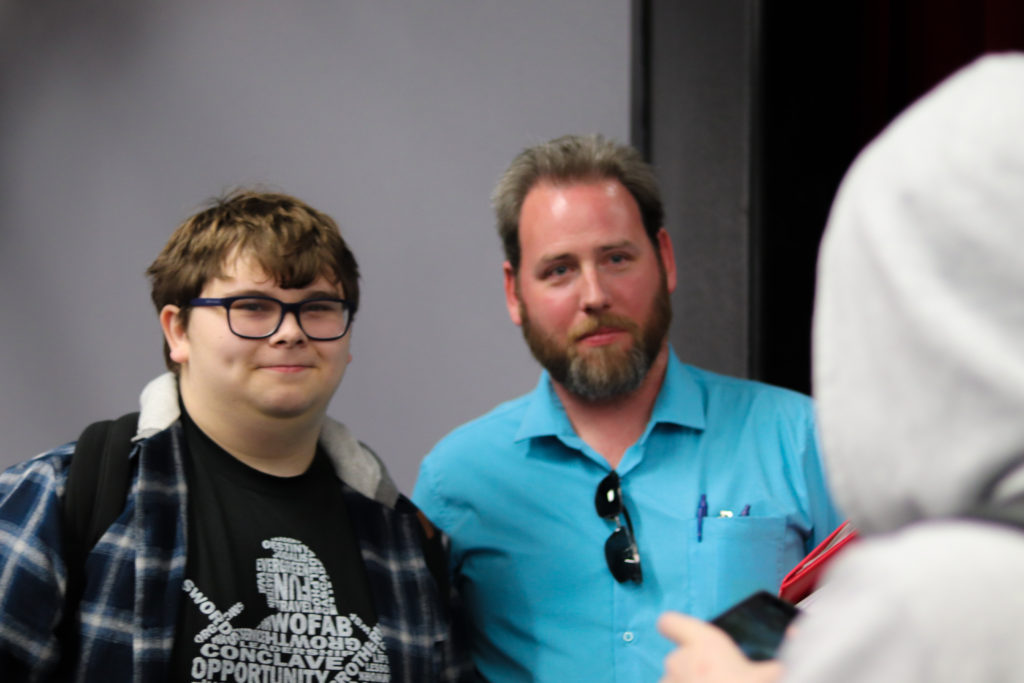 Once the debate was over, students had the opportunity to talk with some of the candidates and ask them further questions.
When asked how they are engaging with the current election, some students shared their thoughts:
"[I'm] getting out there and trying to educate my fellow students, in knowing what the parties are, what they stand for," says River, a grade 10 student. "I'm doing a project right now about that. If you don't vote, then, what's going to happen? They're not going to care about us down the line. They're not going to worry about what we think, because we didn't have an opinion."
"If you can vote, just go vote," says Filip, another student, "but don't let other people sway your opinions. Just do what you think is best for you. It's not about voting for other people, it's about voting for what you believe in."
Next week, students will be heading to the 'polls' by taking part in a mock vote.