Board News: Tuesday, October 25, 2016
October 26, 2016
Superintendent's Report: Framework for Enhancing Student Learning – Inclusive Education
Acting Superintendent Gord Stewart introduced Lisa Dolinski, Director of Learning Support Services, to highlight examples of inclusive practices in the District. Michelle Wood, Vice-Principal at WGSS and District Program Teachers, Cindy Loeppky and Christine Thygeson, shared information on the 'Coffee Cart' initiatives at WGSS. Students learning communications and work skills set up a coffee cart that is benefitting participating students and the school community as a whole. Watch the video below.
The 'Inclusion' video below highlights Syrian refugee students engaged in learning. Karen Beatty, District Vice-Principal responsible for English Language Learners (ELL) and Carmen Eberle, Principal of Douglas Park Elementary and ELL Teacher Elaine Scovell discuss actions implemented to support student inclusion and the reciprocal relationship of learning between new immigrants and the school community.
Superintendent's Report: Re-designed Curriculum Implementation – Physical and Health Education
In the newly re-designed BC Curriculum Physical Education and Health Education have been combined into one program. To support this change in curriculum and to lead and facilitate this learning, Mrs Gail Markin has been added to the Instructional Services Department. Instructional Services is a group of District Teachers that are responsible for the delivery of the new curriculum to teachers. Mrs Markin will provide support in a number of ways including creating resources and connections with outside agencies as well as promoting collaboration. All aspects of student health and wellness, including physical, social and mental well-being are covered in this comprehensive curricular area.
Superintendent's Report: Long Term Facilities Plan – Middle Schools Update
The District currently has middle school programming in three families of schools (LSS, Aldergrove and R.E. Mountain) as well as Langley Fundamental Middle/Secondary (gr 6-12) and a middle school model at Langley Fine Arts School. Prior to engaging the community at large with a full consultation, the Board of Education directed staff to host informational community meetings in the fall of 2016. Approximately 180 individuals comprised of district staff, trustees, students, school-based administration and parents from each of the Langley schools. The Board has now passed a motion supporting the establishment of a District-wide middle school model as part of the Long Term Facilities Plan. Essentially this means that, moving forward, the middle school model will be the preferred configuration as opportunities, circumstances and finances allow. Also, consultation process will begin in the Brookswood, DW Poppy and WGSS communities (where middle schools do not exist) to explore the possibilities and opportunities in each of those areas.
Superintendent's Report: Bill 22 – Education Improvement Act (Classes over 30)
Section 76 of the School Act legislation mandates that any grade 4-12 class does not exceed 30 students unless:
In the opinions of the Superintendent of Schools and the Principal of the School, the organization of the class is appropriate for student learning, or
The class is in a prescribed category of classes (classes such as Adult Education, an Alternate Program, Band or Choir, Performing Arts, Planning 10 or Leadership)
A small number classes in the District, mostly secondary, do exceed 30 students, usually by one or two students but, referrencing the above conditions, the class size did not inhibit student learning. In the case of classes exceeding 30, extra compensation may be provided to teachers such as additional preparation time, additional professional developemnt allowance, additional allowance for classroom supplies and equipment or additional pay.
The number of classes requiting consultation has decreased from the 2015-2016 school year which required 24 consultations compared to the 14 for 2016-2017.
Superintendent's Report: Bill 22 – Education Improvement Act (Learning Improvement Fund)
The Learning Improvement Fund (LIF) allows Boards of Educaiton to address learning improvement issues, giving consideration to all students in all classes. In a fiscal year, a Board must request funding and submit a plan to the Ministry of Edcation outlining the allocations of the grant. The Langley School District's allocation for 2016-2017 totals $3,407,919 and includes an Education Fund allocation of $2,726,335 and Support Staff funding of $681,584 which will go toward Special Education Assistants, Youth Care Workers and Family Support Workers. among others.
Secretary Treasurer's Report: Enrolment Report – Funding and Headcount Update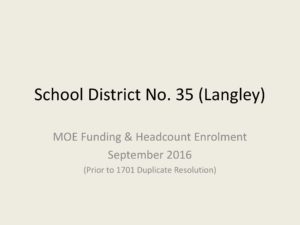 Each year the District has to compare enrolment projections with actual enrolments during the 1701 data collection process. The 'Full Time Equivalents', or number of completely full student positions (for example, two half-time students would be one FTE), is one of the determining factors for District funding. Historically, students have moved to other districts or elected to move to private schools resulting in a 'loss' of FTEs in Langley. As this loss of FTEs is currently unknown, the funding in the Board report is higher than what is expected when the Ministry of Education confirms numbers. At the moment, based on 1701 data, the District expects to receive $165.5 million which is $5.2 million higher than originally projected and $3.0 million higher that the budgeted funding of $162.5 million.