Board News: Tuesday, January 26, 2016
February 1, 2016
Presentation: DW Poppy Secondary Musical Theatre Production of Footloose, the Musical
Students from the Musical Theatre Academy at DWPS provided the Board of Education with a sneak peek of their presentation of Footloose, the Musical. The show runs February 23-27 and tickets are available here.
Presentation: Langley Secondary Musical Theatre Production of The Pajama Game
The LSS musical theatre production involves students from LSS and HD Stafford as well as members from the community including alumni and parents. The Pajama Game runs February 26-27 and March 3-5. For more information visit www.langleysecondary.ca.
Presentation: LFMSS Titans Senior Boys Volleyball Team
The LFMSS Titans Senior Boys Volleyball Team had a strong finish this year, reaching the AA Provincial finals. Though the Titans fell to MEI in the finals, they can take pride in the fact that they finished second despite entering the tournament seeded sixth. Head Coach Daniel Johnson and Assistant Coach Hassan Fadaie and team members Brock Fast, Luc Degianni, Zechariah Johnson, Phil Stahl, Jordan Goh, Max Heppell, Brendan Gill, Mohammed Fadaie and Jacob de Wolff were congratulated by the Board.
Honouring Former Trustee and City Councillor Dave Hall
Board Chair McFarlane opened the meeting by expressing condolences to the family of former Trustee and City Councillor Dave Hall, who recently passed. Mr Hall was well-known in the Langley community and spent 9 years as a School Board Trustee and 7 years as a City Councillor. Chair McFarlane described Mr Hall as a '…what you see is what you get kind of guy' and expressed appreciation for his honest opinions as well as his work and dedication to the students and citizens of Langley.
Superintendent's Report: Achievement
Completion rates in Langley Schools mirror the upward trend provincially and have reached an all-time high locally. Rates of students graduating with their Dogwood have risen from 78% in 2008 to 87% in 2015. While there is still a gender gap with male completion rates at 85% and female completion rates at 90%, that gap is closing from 9% in 2010 to 5% in 2015. Aboriginal completion rates are also on the rise from 51% in 2007 to 78% in 2015 (see  'How Are We Doing?' below). Superintendent Hoffman said she was pleased that rates were going up but that a 100% completion rate is obviously ideal and expressed concern that not all students are completing school. District strategies will focus on Aboriginal and non-Aboriginal males and SPED behaviour designation students to reach the attainable goal of 93% completion as outlined in the District Achievement Contract.
Superintendent's Report: Truth and Reconciliation
During the current Board's tenure two significant events have taken place in the District's Aboriginal community: the ending of the Truth and Reconciliation Commission and the signing of a new five-year Aboriginal Education Enhancement Agreement. At the June 16, 2015 Regular Meeting of the Board of Education Chair McFarlane read a statement on behalf of the Board committing the District to reconciliation. To commemorate and honour the District's commitment to the Aboriginal community, District Principal Micheal Morgan unveiled honourary plaques that will be hung at each site within the District. Trustees were also presented with smaller versions of the plaques as a gift. Former Trustee Cecilia Reekie was also presented a plaque in recognition of her work and dedication to reconciliation and the relationship between Aboriginal and non-Aboriginal communities.
Superintendent's Report: How Are We Doing?
Aboriginal Program District Principal Michael Morgan shared the Ministry of Education "How Are We Doing?" annual report on the performance of Aboriginal students in BC with a focus on the Langley School District level.
Completion rates for female Aboriginal students in Langley are improving and have gone from 59% in 201-2011 to 89% in 2014-2015 taking them very close to the female non-Aboriginal student completion rate of 90%. Male Aboriginal student completion rates are also on the rise from 65% in 201-2011 to 67% in 2014-2015.
Chair McFarlane congratulated Mr Morgan and his team on behalf of the Board for the work they are doing for Aboriginal students in the district.
Superintendent's Report: Refugee Update
During the regular meeting Tuesday, December 8th, the Board requested that staff provide an update on the District's readiness to accept refugees in light of recent news and current events around the Syrian refugee crisis and Canadian acceptance of refugees. Superintendent Hoffman reported that there has been good communication with local and provincial agencies and District staff. The District is not expecting any Government Accepted Refugees but the District recognizes that some private organizations may sponsor refugees outside of the Government program. Though Langley is not a primary destination for refugees Langley may experience secondary migration as families settle in the region and choose to move to neighbouring suburbs. The District is ready to support any new refugees or immigrants with assistance.
Secretary Treasurer's Report: Emergency Preparedness
Secretary Treasurer David Green provided the Board with a report on Emergency Preparedness, with an emphasis on earthquake preparedness. Each school in the District is required to complete an Emergency Response Plan (ERP) annually. Current forms and paperwork are difficult to complete and an area of focus now is on streamlining and simplifying the paperwork for September 2016. Following a drill in October 2015, it became apparent that plans for the establishment of an Emergency Operations Centre (EOC) needed to be formalized and this work has been undertaken and will be completed by the end of February 2016. Meanwhile schools are completing a standardized and approved checklist to asses their emergency supplies. Once lists are assessed, District leadership will discuss with DPAC how funding may be supplied to schools. Budgetary discussions are expected to take place this spring in tandem with District budget considerations. In December of 2015 a meeting was held with DPAC regarding current emergency preparedness. It was decided at that time that an emergency preparedness committee would be struck with members from DPAC, District leadership, schools and maintenance staff.
Secretary Treasurer's Report: Financial/Budget Update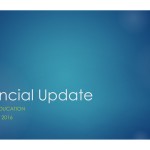 Secretary Treasurer David Green and Assistant Secretary Treasurer Brian Iseli provided the Board a financial update to December 2015. At this time the budget shows a deficit but this is a result of the way in which funding is provided to school districts by the Ministry of Education and the nature in which spending occurs on various expenses. Year-to-date figures are as expected for the period according to Mr Green. Mr Iseli pointed out a few revenue changes in the preliminary amended budget that included increases in International student revenue as enrolment grew from 720 to 855 full-time students. There were also increases in Ministry of Education funding, International summer programs, tuition increases from the Langley Education Centre, increases in rental fees and an estimated increase in the Economic Stability Dividend (estimated).
Education Committee: Equestrian Academy
The Education Committee brought forward a motion to approve the establishment of an Equestrian Academy for the 2016-2017 school year. The Board passed the motion to create the program and the motion to approve the fee schedule. Presented to the Board by Lara Petrie of Instructional Services, Leadership and Career Ed, Ms Petrie explained that the establishment of an Equestrian Academy in Langley just made perfect sense. Langley is the 'horse capital' of BC and the accessibility to key partners in the field will assist in providing a valuable experience for students that ranges from support in academics while they pursue competition to possible work experience in supporting industries like veterinary practice or farriering.
Education Committee: LSS Softball Academy
Assistant Superintendent Gord Stewart presented briefly on the addition of a softball academy at LSS which the Board supported. Since the addition of the Blaze Baseball Academy, a number of students, parents and organizations have enquired about a similar program for softball. The Softball Academy will take advantage of its location at LSS next to McLeod Athletic Park and provide students with National-level coaches. The academy is open to all males and females in grades 9-12 and will draw students from within LSS, School District #35 and possibly students from outside the district, looking to improve their skills.
Education Committee: Specialty Academy Fees and IB Fees
Fees for specialty academies, including the new Equestrian Academy and Softball Academy, were approved by the Board. Though most fees have not been updated for quite some time, only a couple of fees have been raised at Langley Fine Arts School.
The fee structure for the International Baccalaureate program at REMSS was aslo approved by the Board.